Surrealism is the desperate attempt of poetry to incarnate itself in history - Octavio Paz.
There have been and continue to be many books written 'about' Surrealism, usually in the past tense, but what we are striving for is to produce publications that are in themselves surrealist, whether through the written word, the visual image or their combination.
Surrealist Editions exists very much in the present tense.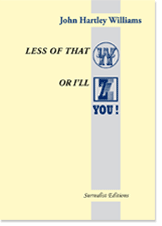 John Hartley Williams
Less of That W or I'll Z You!
A collection of ten new poems that draw upon Surrealism's unquenchable spirit for playing with language, including translations of poems by Benjamin Péret and Jacques Prévert, with a frontispiece by Kathleen Fox. More...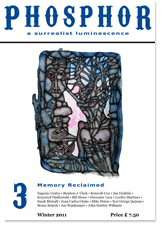 Phosphor No.3 - Memory Reclaimed
Winter 2011
Texts, poems, images on the theme of 'Memory Reclaimed' - including Krzysztof Fijalkowski on Gherasim Luca; Bruno Solarik on Švankmajer's latest film; childhood memory by Bill Howe Sarah Metcalf & Eugenio Castro. More...